About Shoving Leopard
Shoving Leopard Farm is a 2-acre garden located on an historic Hudson Valley estate overlooking the Hudson River. I grow cut flowers and garlic without the use of synthetic pesticides or fertilizers, keep bees and chickens, and make maple syrup.
The Garden
I grow over 100 varieties of annual and perennial flowers in a 2 acre enclosed garden. The permanent beds are designed around the pick-your-own flower labyrinth in the center of the garden.
Although the farm is not certified organic, I use no chemical fertilizers or pesticides of any sort, relying on well-finished compost, cover crop rotations, fish emulsion, and mycelia for fertility, and crop rotation, vegetative barriers, soap and pepper sprays, chicken detail, and manual squishing for pest-control. By improving soil tilth, increasing organic matter, and promoting biodiversity in the soil and in the crops, I try to create an environment that allows for a sustainable production of healthy and abundant crops.
My small hoop house serves as a potting shed in early spring, a hot house in the summer, a curing station in the fall, and a refuge from weather for my hens in the winter. I hope to have one or more hoop houses for extended flower production in the not-so-distant future.
My flowers are grown for CSA members who come once a week throughout the season to pick their own bouquets from the labyrinth. I also off bouquet subscriptions for spring flowers, summer blooms, and fall dahlias.
I grow flowers for weddings and other events. Check out the wedding page to learn about the various options, which include pick-your-own from the labyrinth, bulk, à la carte, and full service.
I grow garlic, both soft-neck and hard-neck, for local restaurants and for anyone who loves garlic breath.
Amaranth, zinnias, and more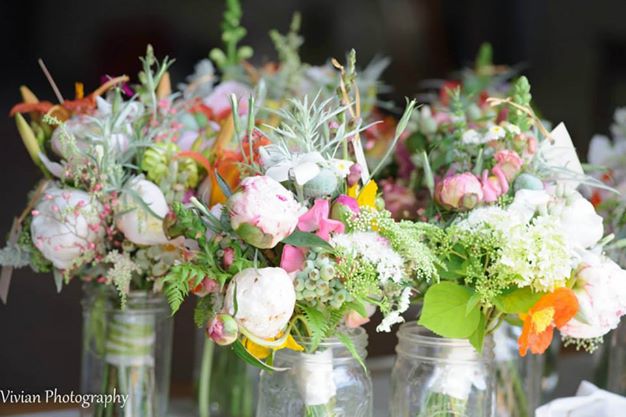 June wedding bouquets, photo by Vivian Photography